The Natural Sunscreen You Need to Try this Summer!
Have you been searching for a natural sunscreen that works, smells great, doesn't leave your skin feeling oily, and isn't full of chemicals that harm your skin?
We've got you covered.
More and more people are now turning to natural products for their face, body, hair, and home. And luckily for us, more brands are starting to produce excellent products that still give us the same results that we've always gotten, without the chemical cocktail of ingredients.
We're proud to now carry SALT & STONE products, a natural unisex skincare brand created in 2017 and based out of Los Angeles, California. With a strong focus on natural, organic, and antioxidant-rich ingredients, the result is a superior collection of products that optimize your body and enhance your daily journey. Their objective is to formulate unisex skin care with natural ingredients because our bodies naturally fight anything they regard as foreign or toxic (shoutout to our bodies for being so innately smart!).
SALT & STONE use organic ingredients whenever possible because research has shown they are richer in essential nutrients than conventional ingredients. Their formulas are 100% cruelty-free, with no animal testing ever. And, they are also formulating their products without artificial fragrances, sulfates, silicons, petrochemicals, parabens, phthalates, or artificial colours.
---
So, let's talk about sunscreen. It's the summer, but really, you have plenty of reasons to be wearing sunscreen all.year.long. For example, the broad-spectrum, UV-blocking sunscreens can help prevent expedited aging, sunburns, and irreparable cellular damage, which can lead to skin cancer. However, some sunscreens are made with potentially harmful chemicals. Sure, they might assist in the UV-shielding game, but they can be easily replaced with all-natural ingredients that block the sun's rays and, in turn, nourish the skin. So really, you have no reasons not to invest in a natural, mineral sunscreen, such as the ones we carry by SALT & STONE.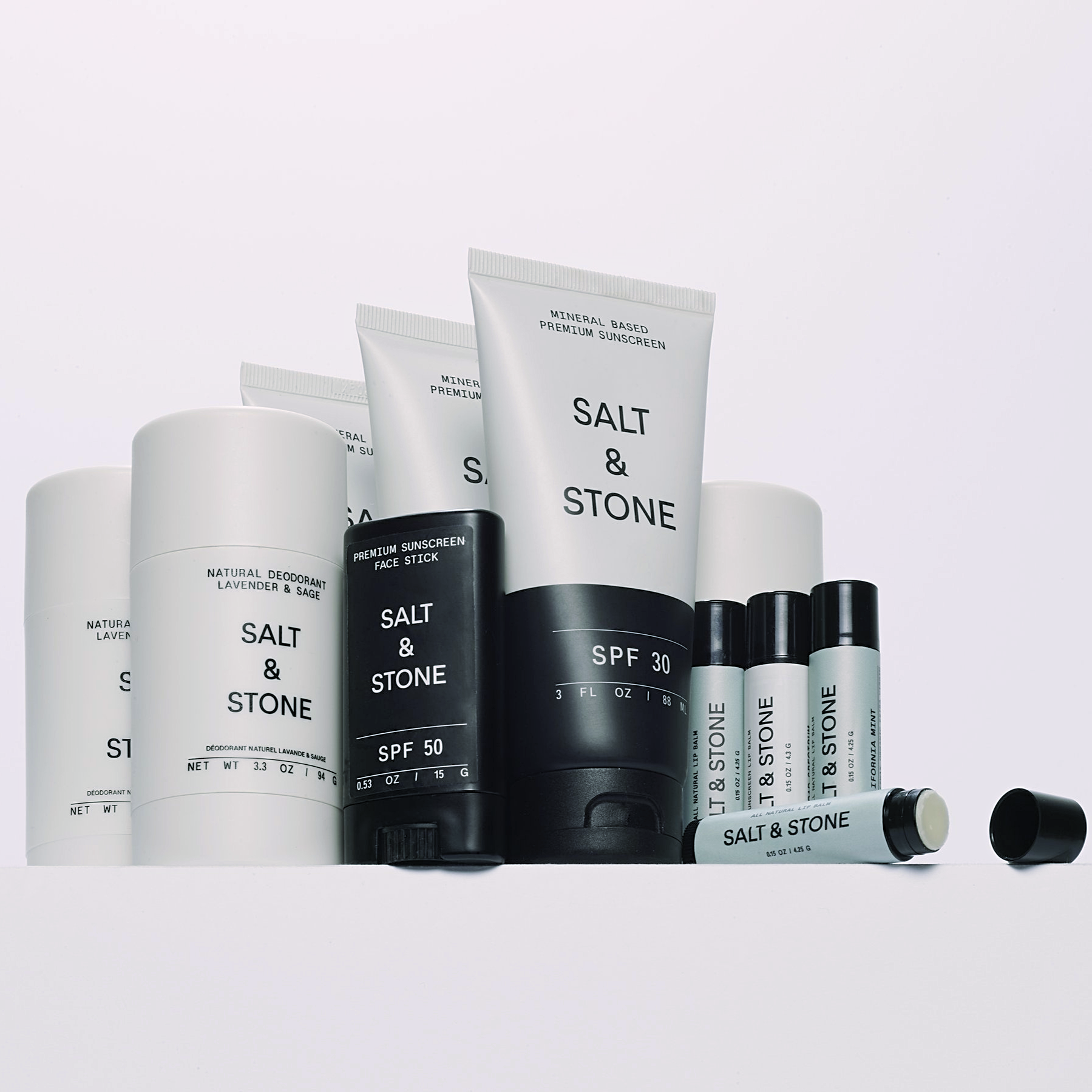 An indie brand adored by surfers and hikers (just in case you were wondering how we came across them), SALT & STONE has engineered a sport-friendly, sweat-resistant sunscreen, void of any ingredients that might interfere with any earth-friendly ethos. It's also made with antioxidants that fight free radicals, in addition to the broad-spectrum coverage that shields from UVA and UVB rays. Together, it's an expert anti-aging product—exactly what you'd expect from the adventurous and young-at-heart SALT & STONE team.
In general, these good-for-you sunscreens utilize zinc or titanium to shield the sun's harmful rays, rather than being absorbed like more synthesized products. They don't need to be reapplied as readily, assuming you aren't going for a dip or sweating too much since they aren't absorbed instantly into the skin. And, pair it with their sunscreen face stick with SPF 50, which offers the same benefits at a higher grade - since your face typically gets more sun exposure than the rest of you - and you're good to go for whatever adventure you get up to that day!
---
Don't just take our word for it...
---
*They've also gotten rave reviews for their natural deodorant as well from Valet Mag!
"This handsomely minimalist stick is a unisex formula crafted from an herbal blend of lavender, sage, and rosemary essential oils to neutralize odour. The shea butter base goes on smoothly and absorbs quickly, while jojoba oil (a natural antibacterial) works to kill any odour-causing bacteria along with soothing sensitive underarm skin. Arrowroot is used to absorb excess moisture and help keep you dry."
---
Come into our Truro or Dartmouth Crossing locations and shop all the SALT & STONE products that we carry!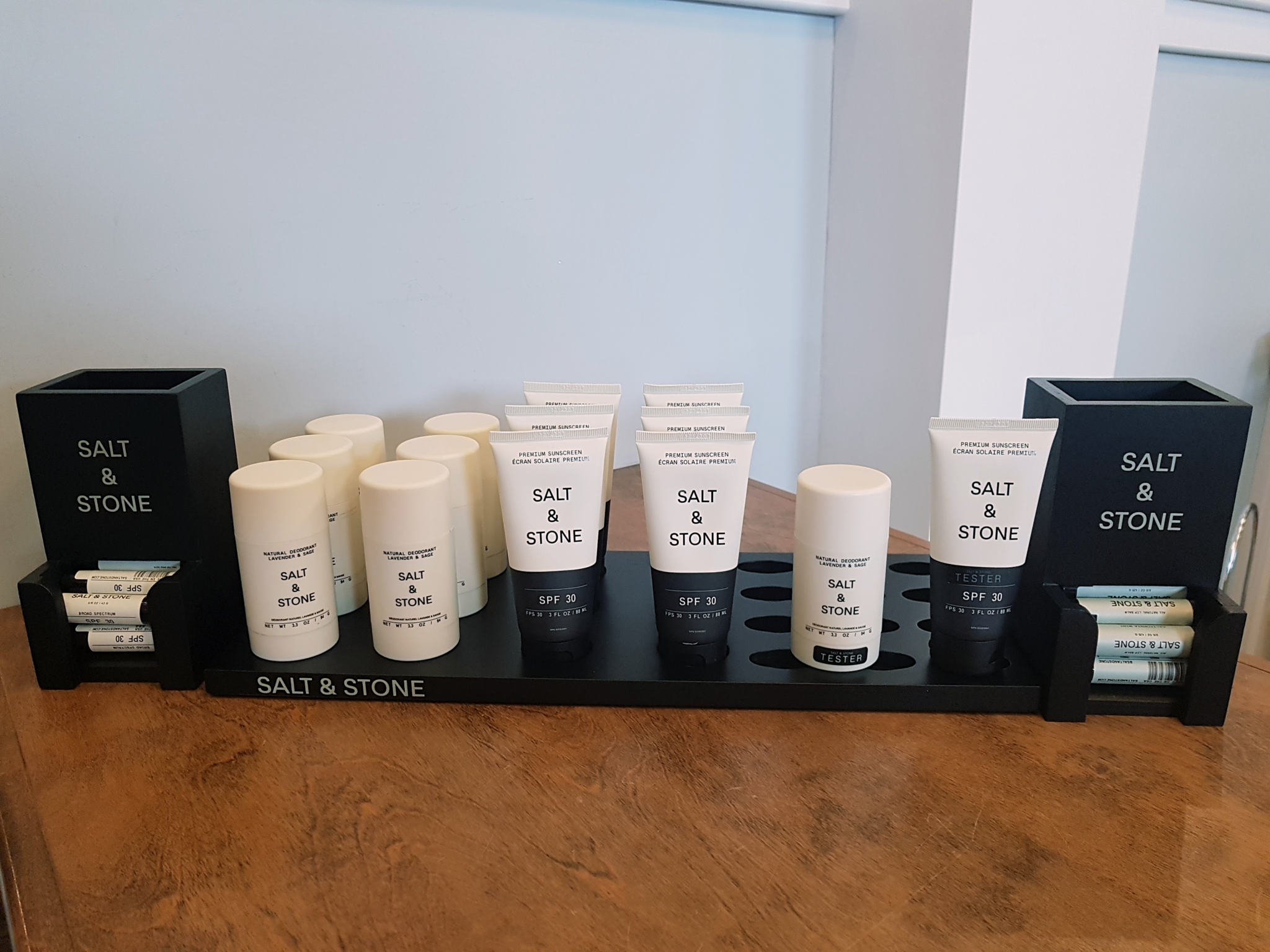 Or, shop the products online and have them shipped directly to you for the next time you're planning on getting flirty with the sun!
When taking it outside this summer, remember to always protect your most valuable asset: your health!
~ the Take It Outside team
---